Apagogical Inventions
---
Prototype for a Machine that Inserts Razor Blades into Apples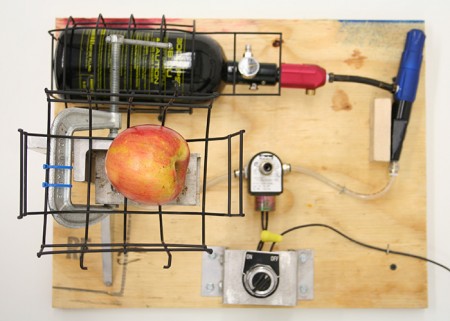 Part of a series of absurd prototypes, this machine aims to make the act of inserting razor blades into apples more efficient while reducing the complicity of its user. A pocket-sized technical manual for an imagined large-scale version of the machine describes its function using the visual language of patent drawings. This project is of several in which I draw from the tropes of patent applications, including their misrepresentations of technology as apolitical.
---
Institute of Patent Infringement
As a member of a group of artists and architects called the Institute of Patent Infringement (IOPI), I created a new work that questions the relationships between automation, work, body, and leisure. Automated Cooling of Human Resources (2018) was displayed as part of the Dutch Pavilion of the 2018 Architecture Biennale in Venice, Italy. The exhibition was also shown in London Design Week at The Victoria & Albert Museum in London, and again at The New Institute in Rotterdam. The work is a collection of patent applications confronting the extraordinary scale at which Amazon has filed patents that seem to define the future of automation, work, and commerce. Through this project, I imagined the logical dystopic outcomes of the radically new technologies being patented by big-tech companies.
Photo credits: Daria Scagliola, Andy Stagg, Clare Lyster
---
Prototype for a Machine that Plays Five Finger Filet
A prototype for a machine of dubious construction that invites its user to trust its reliability and the intentions of its inventor.
---
Prototype for a Machine that Creates TV Static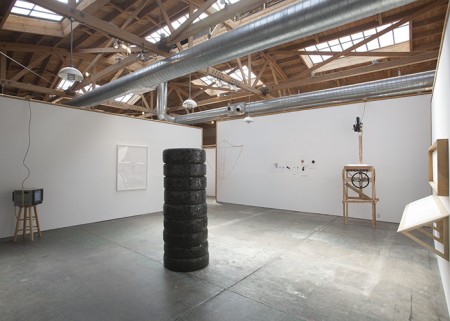 An interactive object that naively attempts to recreate the phenomenon of analog video static via mechanical means. When the viewer approaches this machine, fluorescent lights above a bed of colored aquarium gravel turn on. The user turns the handwheel, which activates 60 uniquely-shaped cams – each cam's profile derived from a different piece of aquarium gravel. An analog video camera captures the movement of the churning gravel bed and broadcasts it to a monitor in another part of the space, rendering a crude version of black-and-white video static.
This work was exhibited in the show Adrift, A Raft at Space4Art in San Diego, CA. The show was curated by Ru Hockley and reviewed by Shawnee Barton.
Photo credits: Shane Anderson