Interactive and Multimedia Installations
---
BorderBeast
I created this interactive video installation for the first iteration of The New Children's Museum's Artist Lens series. For this project, I was invited to create a work that responded to another work in the exhibition. This installation was initially slated to be exhibited for only a few months, but due to its popularity with the museum's visitors and staff, it was extended for an additional nine months.
Some in-process photos of BorderBeast.
---
Hello,
Two weeks before I attended the inaugural Open Studios Residency at the Haystack Mountain School of Crafts, I read that the pay phone that had existed there long before I first visited the school in 2002 was to be removed by the telephone company that owned it. For years, the pay phone served as the only reliable way for visiting artists and students to communicate with the outside world. In response, I purchased a retired pay phone, replaced its internals with my own electronic hardware and software, and installed it in the location where the previous phone resided. The new pay phone functions as a hub for communication among visitors to Haystack. Users of the phone are prompted to choose to leave a voice message or hear a previously recorded message from someone else. The messages are left on a variety of personal themes – each selected by pushing specific buttons on the keypad – from a story about a prank gone wrong to a favorite birthday memory.
---
Lost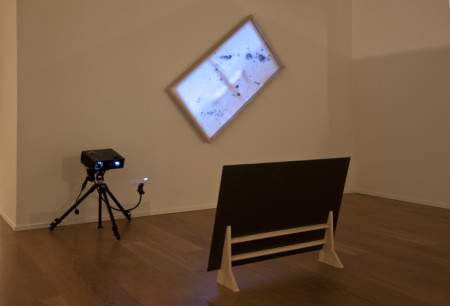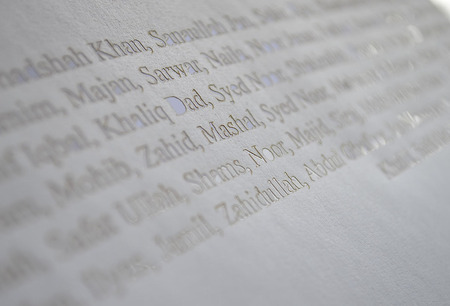 My interest in the human cost of covert U.S. drone wars in the Middle East led me to create a series of sculptures entitled Lost (2013-2018). One iteration of this work, Lost #2 (2014), presents several objects, including a CNC-carved topographical map of an area of Pakistan that identifies each of the sites of 3,000 deaths caused by US drone strikes with a carefully placed silk pin. A pixelated, out-of-focus projection of newsreels and drone footage is overlaid on the map while the names of the dead slowly scroll across a separate projection surface. The installation creates an ever-changing experience for the viewer as they move through the space. This project has taken different forms, most recently with Lost #4, a laser-cut work on paper that again serves to acknowledge the dead.
Photo credits: 1-2 John Mann, 3 Raymond Martinot (courtesy of Orlando Museum of Art)