Teaching
Over the past dozen years, I have taught art and technology in higher education, institutional and informal workshops, and intensive artist residencies. I have developed and facilitated many unique learning experiences and mentored hundreds of students and interns. Some of the topics that I have taught include sculpture, woodworking, welding and metal fabrication, mold-making and casting, digital fabrication, 3D design, interactive art, electronic and robotic art, sound art, circuit bending, creative coding, lo-fi video games, experimental animation, and primitive photography. Below are descriptions of a few of my favorite teaching and mentorship experiences.
---
Mechatronic Art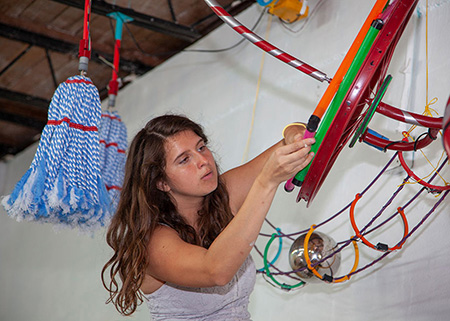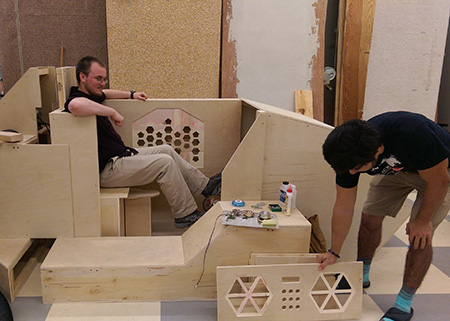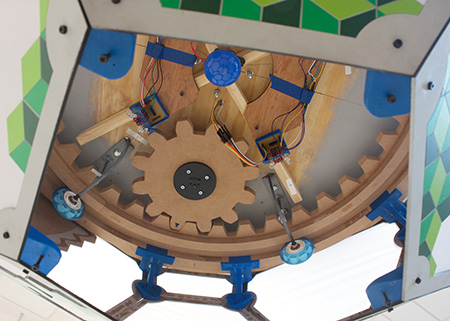 In a teaching collaboration between myself and Dr. Jonathan Clark at the FAMU-FSU College of Engineering we have brought studio art and mechanical engineering students together to create works of "Mechatronic Art." Mechatronics is a discipline that combines electronics, mechanics, and informatics. The Mechatronic Art course is structured to afford students from each area opportunities to teach their classmates from the other discipline. They work with a local non-profit organization to design and create interactive exhibits in those venues. The photos above show students working collaboratively on several interactive installations exhibited at the Challenger Learning Center (a space and aeronautics museum) and The Sharing Tree (a non-profit space for hands-on learning through play).
---
I led two groups of advanced sculpture students at FSU on a project that challenged them to collaboratively conduct research on visual disabilities and create artworks that gave particular consideration to an art audience that is blind or visually impaired. Students' independent research was paired with discussions with the FSU Visual Disabilities program and a regional non-profit that provides services to people with visual disabilities, Lighthouse of the Big Bend. The students created sculptures and installations with a balance of concept, content, and form while engaging the non-visual senses and developing strategies to address reduced visual acuity. They then worked with the FSU Museum of Fine Arts to create an exhibition of their work that included ADA-compliant signage, braille materials, and accommodation for mobility devices and guides. The museum exhibition, titled EXTRASENSORY, was well attended by local groups and individuals that are blind or visually impaired, and the students served as guides for visitors. As a result, the museum has now adopted methods that the students developed during the project, including using high-contrast, large type, and magnifiers.
Images of work from the exhibition by: Maddie Wishart, Sophia Baldwin, Charles Barger
---
Research Mentorship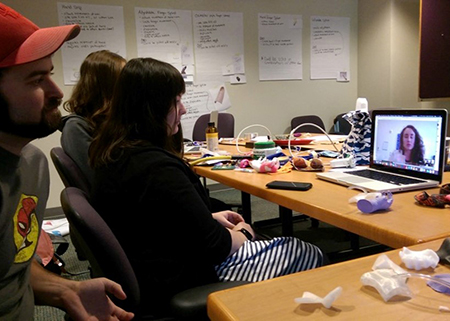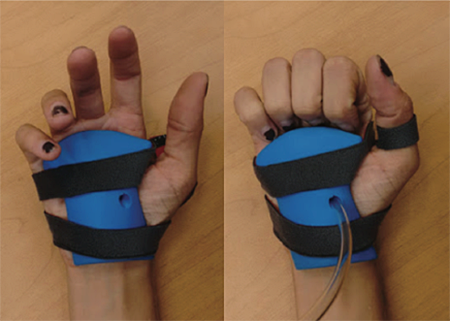 Through the FSU Facility for Arts Research (FAR), I worked with a small group of art student researchers in a design-build project for a real-world client: neonatal researchers at Nationwide Children's Hospital in Columbus, Ohio. I guided the students, who worked on the project outside their regular course work, through the design process and mentored them as they regularly presented their sketches, models, and prototypes to the neonatal researchers. The task was to design and produce a novel medical device for treating toddlers with cerebral palsy. Some design challenges included the need for the object to be cleanable according to medical standards, be sized for use by patients of varying ages, and be parametrically customizable. The final 3D printed design (named "HAT: Haptic Air Tester"), its accessories, and documentation were used in the neonatal unit at Nationwide Hospital, where part of the group and I traveled to observe the designed object in use.
Other research mentorship at FAR: Waste Materials Research Project
---
Creative Coding: Interactive Narratives
During the pandemic, I developed a remotely taught iteration of a course called "Interactive Art I: Creative Coding." While I have taught the use of code in interactivity, multimedia authoring, and other creative coding contexts many times over the past dozen years, I developed a new curriculum that focused on interactive narratives and small-scale zine-like games as the output. Student projects were personal, political, fantastic, and diaristic. Above is an example of one of the low-fi games students made. This one, about lucid dreaming, was created by Faith Singleton and is a favorite. (Click on the game and use the arrow keys to navigate)
---
Experimental Animation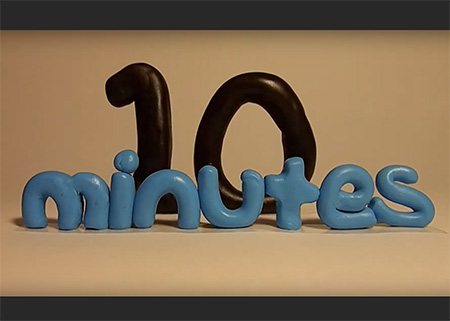 Some years ago, I designed and taught a course titled Experimental Animation, in which students explored video editing, analog motion graphics, and historical techniques for creating animation and video art. For one of the semester's projects, students selected a 35mm motion picture trailer and proceeded to use various direct animation techniques - including scratching, drawing, bleaching - to transform their trailer. The students' finished projects ranged from slight manipulation of the trailers' content using markers and knives, to completely removing the image and screen printing on the blank film stock. The films were spliced, built, and screened by members of the class at Movies 8 in Tallahassee, FL - the only theatre in the area that projected 35mm. Other projects in the course included the unorthodox use of a Shopbot Alpha CNC router as both the set for a collaborative cut-paper animation and as a computer controlled apparatus for moving and triggering the camera. Some of the projects can be seen in this YouTube playlist.